Successful Year for Club Aontroma
12th October 2020
A chara

We are delighted to publish our ANNUAL REPORT as presented to our AGM on 12 October 2020. As you can see, Club Aontroma have had a successful year and have shared in the renewed enthusiasm for gaelic games and activities in our county over the past year. Notwithstanding the pandemic we have enjoyed a year of renewed productivity and output. We produced 6 high quality match day programs for our county finals and national league games, themselves showcasing the positivity of our senior panels and indeed the visionary ambitious nature of our clubs. We have spent your money wisely and have donated
- £25,000 to Corrigan Park Redevelopment,
- £1200 for two livestreams (Camogie and LGFA finals),
- £1332 for two Cumann na mBunscol kits,
- £500 to Saffron Gael,
- £700 for 12000 flyers & Pop Ups.

We are delighted to welcome county legends Jane Adams and Sambo McNaughton on board as well as Micky Maguire from Ardoyne, a former development squad coach and well respected figure in underage football to our committee.
We are delighted to announce our new PRO Sean Kelly who will also act as vice chairperson. Sean's enthusiasm and talent as a PRO will not be lost to gaelic games in our county as he stands down from the formal county position due to term limits.
If you are not a member of Club Aontroma please consider joining!It is only £10 per month and due to our charitable status we can generate a further 27% in Gift Aid. You can join Club Aontroma now through your mobile phone at this weblink!
https://cafdonate.cafonline.org/12125#!/DonationDetails
Believe in Saffron!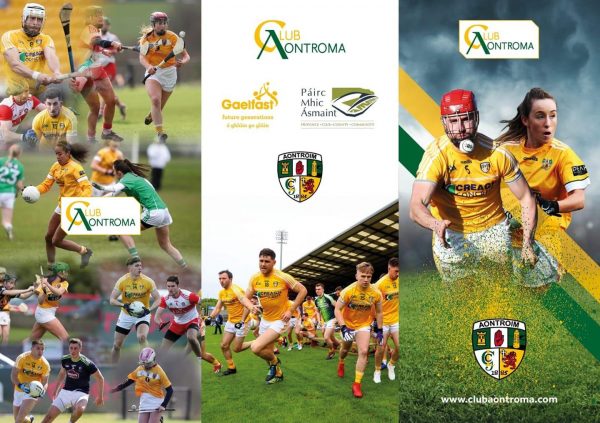 Join Us

- become a Club Aontroma member!